AVX's sales & distribution team will attend EDS to hone, strengthen, & celebrate existing channel partner relationships & accept the company's 2017 TTI Supplier Excellence Award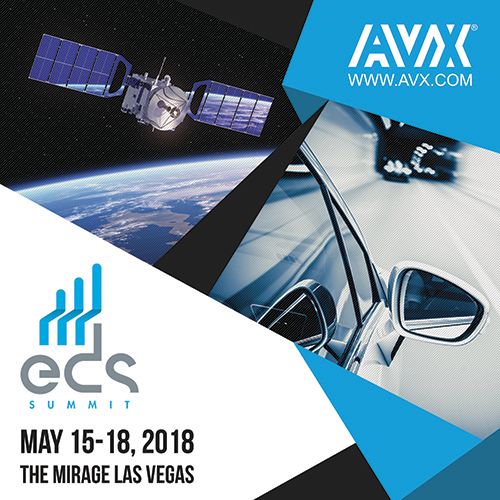 FOUNTAIN INN, S.C. (May 1, 2018) – AVX Corporation, a leading manufacturer and supplier of advanced electronic components and interconnect, sensor, control, and antenna solutions, is sponsoring and attending the 2018 Electronic Distribution Show (EDS), which will take place May 15–18 at the Mirage Hotel and Casino in Las Vegas.
Widely recognized as the premier annual event for leading members of the global electronics industry, including manufacturer/suppliers, distributors, and sales representatives, EDS provides attendees with a unique opportunity to forge and strengthen business relationships through one-on-one meetings, product exhibitions, educational programs, and networking opportunities.
AVX's sales and distribution team will be in attendance to converge with leading members of the electronics industry, participate in a nationwide sales meeting, provide channel partners with important updates about AVX technology, strategy, and vision, discuss new opportunities, learn about the challenges that distributors and sales reps are facing, develop effective, integrated solutions, evaluate and reset goals, and realign collaborative efforts for even greater success.
AVX will also attend the TTI Executive Briefing Breakfast Meeting on Wednesday, May 16, to accept its fourth consecutive TTI Supplier Excellence Award in the Americas. AVX earned a gold award in 2017 in recognition of having successfully filled several key quality performance metrics designed to elevate supplier and distributor performance and achieve maximum customer satisfaction throughout the Americas, including: on-time delivery, receiving quality, customer-reported quality, administrative quality, operations and business systems, and sales and management support.
"AVX is a proud bronze-level sponsor of EDS, and our sales and distribution team looks forward to participating in the quality networking events that EDS facilities, accepting our fourth consecutive TTI Supplier Excellence Award in the Americas, commemorating yet another year of successful partnership with our distribution partners, and continuing to strengthen these most valuable relationships," said Alex Schenkel, vice president of global sales, AVX.
For more information about EDS, please visit http://edsconnects.com/. For all other inquiries, please visit www.avx.com, email inquiry@kyocera-avx.com, follow them on LinkedIn and Twitter, like them on Facebook, call 864-967-2150, or write to One AVX Boulevard, Fountain Inn, S.C. 29644.