Unifying Two Great Brands to Provide Even More Products,
Technologies, and Solutions for a Better Tomorrow!


Kyocera Corporation (President: Hideo Tanimoto, hereinafter; "Kyocera") and AVX Corporation (CEO: John Sarvis, hereinafter; "AVX") announced that AVX, a consolidated subsidiary of Kyocera, has changed its corporate name to "KYOCERA AVX Components Corporation" as of October 1, 2021.
This new brand structure will accelerate and strengthen the growth of the company's electronic components business worldwide. To prepare for new opportunities, KYOCERA AVX will maximize the synergies of our two strong brands and combine our resources of manufacturing and development. We will reach across all divisions to add value for our customers as well as make investments in our manufacturing capabilities which will expand our manufacturing footprint exponentially. KYOCERA AVX will also evaluate opportunities for strategic growth through investments in new technologies and innovation, and in acquisitions that complement the company's growth goals.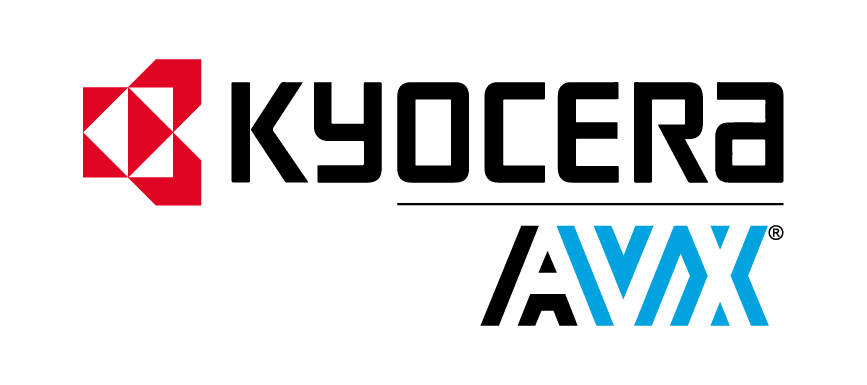 Under this new brand, KYOCERA AVX will continue to be a leading global supplier of a wide range of products, including capacitors, resistors, filters, couplers, sensors, controls, circuit protection devices, connectors and antenna solutions. In addition, KYOCERA AVX will offer even more products, technologies, and services to existing and future customers with the integration of Kyocera's electronic components and solutions.
KYOCERA AVX will proactively expand its product lineup, business domains, and market shares through R&D and M&A. In its key markets, KYOCERA AVX expects demand for electronic components to accelerate due to the widespread use of IoT, 5G, and Advanced Driver Assistance Systems, as well as through rapid technological innovation and business opportunities brought about by the progression of the so-called "4th Industrial Revolution."
Amid these changes, integrating the Kyocera and AVX brands and reorganizing global sales forces, enables KYOCERA AVX to accelerate innovative developments, respond to customer needs, and implement investments for the company to gain market share pursuant to our global business perspectives and strategies.
The Kyocera Group is committed to building a better future through technology, and KYOCERA AVX will build on that tradition of innovation to create a better world beyond our imagination. Our Passion for innovation helps us to create products that make everyday life better, for consumers and for businesses. The vast array of electronic components that we design & make, connect people & technology, and will continue to revolutionize society far into the future.
KYOCERA AVX | Explore Full Product Offering