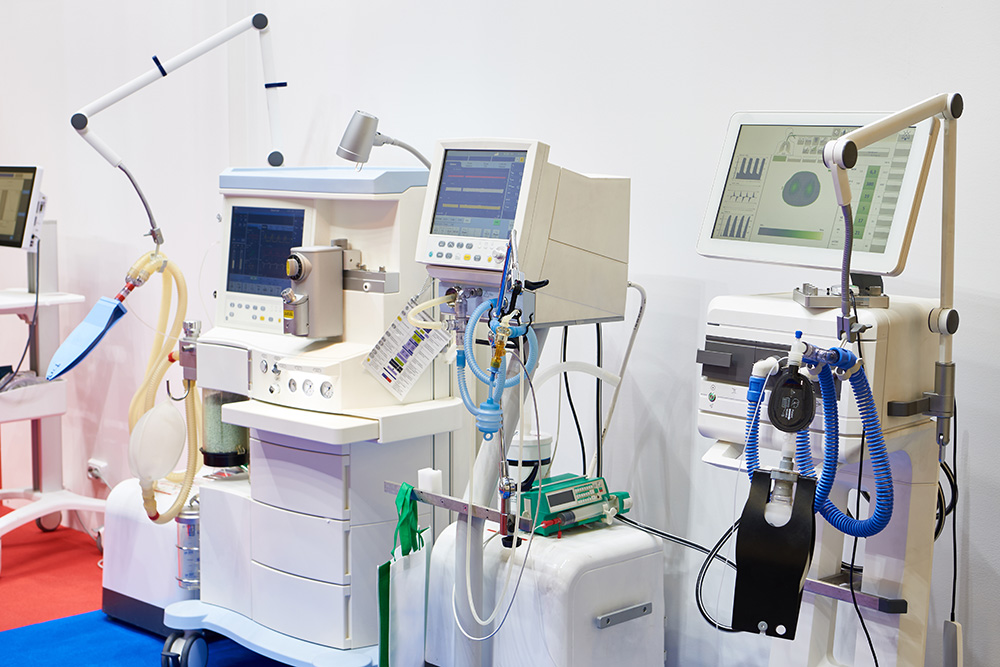 All of us, at every level, function and business, feel the significance and the intensity surrounding the worldwide COVID-19 pandemic situation, both in our personal and professional lives. Teams across the company have been meeting daily to address critical employee and customer issues. What motivates KYOCERA AVX every day is knowing that despite the current situation, we are rising to the challenge as our manufacturing plants continue to deliver for our customers around the globe.
KYOCERA AVX is proud to be an integral part of a supply chain which meets the urgent requirements of healthcare institutions and healthcare professionals battling the global COVID-19 pandemic. We are seeing a rapid increase in customer demand for critical medical equipment including lung ventilators, mobile X-ray, CT systems, ultrasound and patient monitors. As such, we are responding and preparing our plants to actively support the manufacture of all required components to produce the medical equipment needed to prevent the further spread of the virus and treat those who have been infected.
As a global manufacturing company, we also offer global logistic support of the deliveries of parts used in a wide range of medical hardware devices made by companies like GE Healthcare, Philips, Smith Medical, Sinocare and many others.
In a recent example, KYOCERA AVX has committed fast delivery of high-grade tantalum capacitors from its plant in Lanskroun, Czech Republic directly to UK Smith Medical company in urgent need for building 10,000 ventilators for hospitals and healthcare institutions. The requirement for three TRJ series part types were processed with top urgency to deliver it in the shortest term while keeping its high-quality standard.
The plants have given, and continue to give, their best effort to deliver all parts as soon as possible, with the shortest possible lead times. It has been a tremendous team effort to function effectively and efficiently to minimize all delays.
KYOCERA AVX is proud to be a key part of the human chain to save lives. We want to say thank you to our customers & employees for your continued patience and support and most importantly, for helping each other during this time. We continue to monitor the situation at the most senior levels and will provide further updates as information becomes available.
Please visit www.kyocera-avx.com/covid-19 for future updates.
EXAMPLE VENTILATOR CIRCUITS
KYOCERA AVX provides a wide range of components that are critical to medical electronics in general and specifically ventilators. KYOCERA AVX NTCs measure gas and patient temperature. Tantalum & ceramic capacitors as well as schottky diodes are used throughout the power supply system that powers the pumps, motors, displays and control logic in ventalitors. TransGuards are used as transient voltage protection on interfaces, keyboards, touch screens and audio alarms.
CRITICAL COMPONENTS FROM EXAMPLE CIRCUITS ABOVE
Ceramic Components
Tantalum Components
Circuit Protection Components
Connector Components
IMPLANTABLE / EXTERNAL DEVICES | LIFE-SUSTAINING & NON LIFE-SUSTAINING
KYOCERA AVX has over 20 years experience supplying capacitors, filters, and other components to the medical device industry. We offer industry leading technology and reliability, and have a deep understanding of the requirements of the medical electronics industry. Our quality systems lead the industry and support customer-specific change control, documentation, specification, and testing procedures. We have a broad range of solutions for Class 3 devices that meet the strictest requirements, and we offer cost-effective components for Class 1 and Class 2 that allow you to satisfy FDA requirements for your systems.
APPLICATION SPECIFIC
DEVICES
HIGH RELIABILITY
UP-SCREENING
WIDEST TESTING CAPABILITY
IN THE INDUSTRY