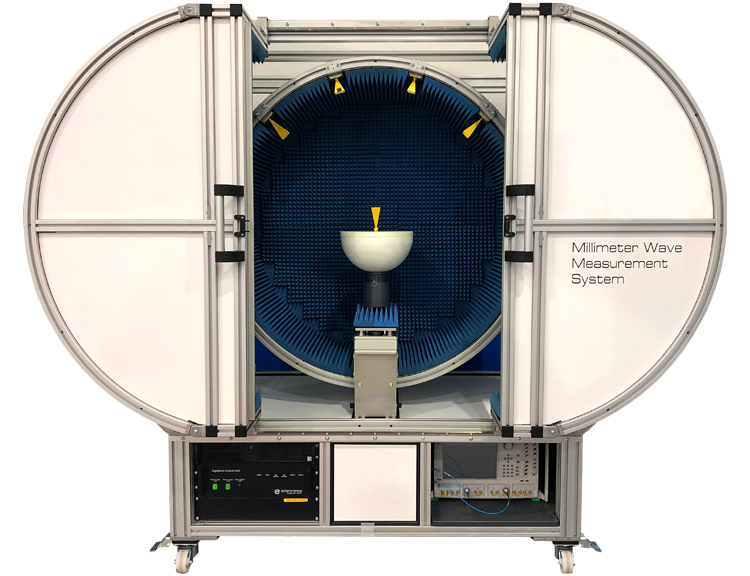 Features & Benefits
Technology: Far-field / Spherical with oversampling
Frequency Range: 18GHz – 110GHz
Maximum Size of DUT: 45cm
Maximum Mass of DUT: 10kg on the mast
Typical Dynamic Range: 50db
Measurement Capabilities (Passive & Active)
Gain
Directivity
Efficiency
Beamwidth
Cross Polar Discrimination
Sidelobe Levels
3D Radiation Pattern
Radiation Pattern in any Polarization
TRP, TIS, EIRP & EIS
Applications
5G Communications Equipment
Mobile Communications Devices
Research and Development
Radar Systems
The
ETH-MMW-1000
is a fully anechoic millimeter wave measurement system capable of testing wireless devices from 18 to 110GHz. The system is self-contained, portable, and compact enough to fit into any laboratory or production environment.
Self-Contained Portable System
Compact and portable, the ETH-MMW-1000 frees up space in laboratories and production environments. The system integrates its Gigahertz Control Unit, Measurement PC and Vector Network Analyzer/Radiocom tester. Easily installed into a new or existing construction, the portable chassis can be relocated within a test facility.
Accurate and Cost Effective Far-Field Measurement System
The ETH-MMW-1000 includes a distributed axis positioning system, consisting of:
An azimuth mast rotator for rotating the DUT about the Phi axis
A theta ring positioner for elevating the measurement Horns around the DUT.
Each measurement bandwidth is covered by dedicated paths (High Performance RF cables, rectangular waveguides, measurement Horns), associated with a common amplification stage. The fully anechoic enclosure provides a shielded environment over a very wide frequency range (from 18 GHz to 110 GHz) and ensures stable measurement results.
The millimeter measurement system is a flexible turn-key solution, ideal for all testing needs for mmWave system development and validation, including: 5G communications devices, mobile communications devices, and research and development.
The system is supplied with the complete antenna software suite, including:
Antenna Measurement (Measurement Control and Data Acquisition)
Antenna Viewer (Post-processing and tabular/graphical data output)
Datasheet – Click to Download
For more information about the
ETH-MMW-1000
(mmWave 5G Measurement System)
Request Measurement Time Window
Use the form below to request a Measurement Time Window. We will review your submission and someone will reach out to you shortly. Thank you