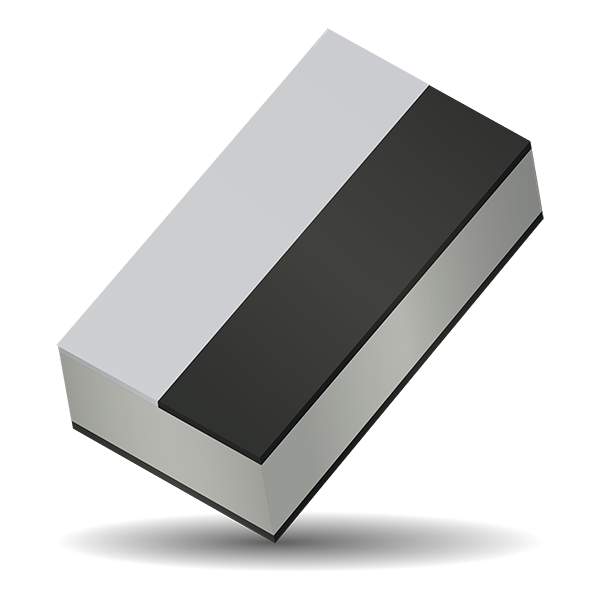 Features & Benefits
Inductance: 0.56 to 6.8 nH
Tightest Tolerance: ±0.05 nH
DC Current: 200 to 500 mA
Typical Applications
Mobile Communications
Satellite TV Receivers
GPS
Vehicle Location Systems
Wireless LANs
Filters
Matching Networks
The L0402 LGA Inductor is based on thin-film multilayer technology. The technology provides a miniature part with excellent high frequency performance and rugged construction for reliable automatic assembly. Thin film inductors featuring extreme lot-to-lot repeatability and tight tolerance. The use of very low-loss dielectric materials, silicon dioxide and silicon oxynitride, in conjunction with highly conductive electrode metals results in low ESR and high Q. These high-frequency characteristics change at a slower rate with increasing frequency than for ceramic microwave inductors. Because of the thin-film technology, the above-mentioned frequency characteristics are obtained without significant compromise of properties required for surface mounting.
Datasheet / Catalogs
Datasheet / Catalogs – Click to Download
Part Number Information
Part Number Information
Design Tools
S2P Files – Click to Download
Libraries – Click to Download

AVX also works with several of the most popular software vendors to ensure our products are up to date in their software, and are constantly working with new vendors to ensure that they have the most up-to-date AVX libraries. These libraries are available below and can be added to your software.

Software – Click to Download

Modelithics

KYOCERA AVX and Modelithics have partnered to offer FREE 90-Day trials of highly accurate, scalable advanced simulation models for various KYOCERA AVX parts including this part as well as Attenuators, Capacitors, Couplers, Inductors, Diplexers, Resistors.