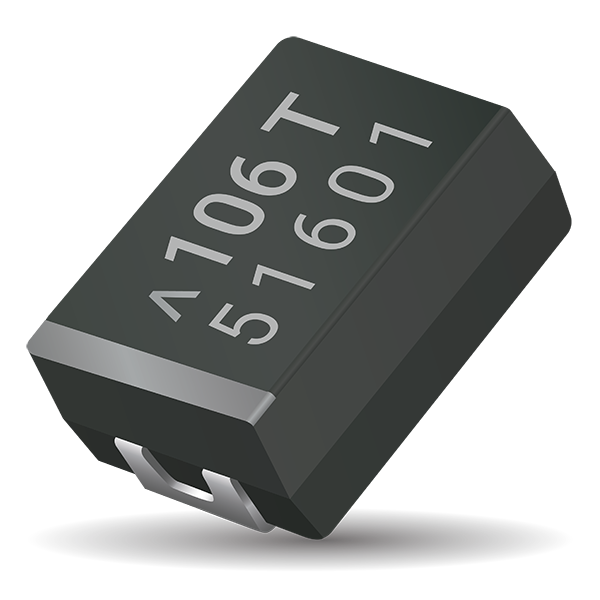 Features & Benefits
Conductive Polymer Electrode
Benign Failure Mode Under Recommended Use Conditions
Robust Design for Automotive Applications
Meets Requirements of AEC-Q200
-55 to +150°C Operation Temperature
Humidity 85°C/85%RH, Vr, 1000 Hours
Basic Reliability 1%/1000hrs@85°C Vr with 60% Confidence Level
DCL 0.1 CV
3x Reflow 260°C Compatible
100% Surge Current Tested
Typical Applications
DC/DC Converters
Telecommunications (Coupling/Decoupling)
Industrial & Special
Automotive (Body Electronics, Cabin Controls, Infotainment, Comfort, After Market, Etc)
Not recommended for use of conductive polymer parts in high power applications. For more information please see KYOCERA AVX automotive application guide or contact manufacturer.
KYOCERA AVX offers High Temperature Polymer Chip Capacitors per AEC-Q200. TCO series in D case size is capable to operate up to 150°C capacitors, operate continuously at a rated voltage of 0.5. TCO capacitors are reliable for wide range of higher temperature automotive and industry applications.
KYOCERA AVX offers a wide portfolio of Automotive Solid Electrolytic Capacitors in several product families. Each of these technologies brings unique features to best suit the specific requirements for many automotive applications.
Please see the Automotive Guide Brochure for full application recommendations
Conventional Tantalum / MnO2 Capacitors
(Long life time, no wear out mechanism, stable capacitance, high temperature)
Niobium Oxide OxiCap® Capacitors offer extremely stable and robust performance
(long life and parametric stability, unique high resistance / open circuit / benign failure mode, stable capacitance)
Conductive Polymer Solid Electrolytics, See Below:
(very low ESR, benign failure mode, high voltage)