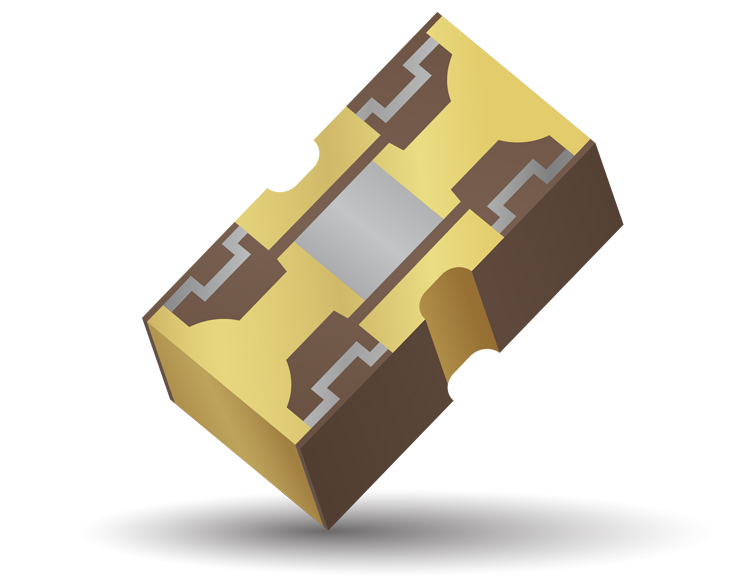 Features & Benefits
Thin Film Design
Power Rating Up to 1 Watt
Frequency Response +/-0.5dB
Characterized to 20 GHz
CPW and Microstrip Applications
EIA 0603 SMT
Highest Power in Class
AIN Construction
Balanced Pi design
Non-Magnetic
RoHs compliant
Typical Applications
Telecommunications
Satellite Communications
Cellular Base Stations
Microwave Radio
ISM
RF/Microwave Power
Military/Aerospace
Test and Measurement
Impedance Matching
Input Padding
Signal Level Tuning
Signal Conditioning
RF/Microwave SMT Attenuator Series (AT) is manufactured with the highest quality materials for reliable and repeatable performance. These devices are constructed with Aluminum Nitride (AIN) and are available in a standard EIA 0603 case size. The AT Series exhibits excellent performance characteristics for the most demanding RF/Microwave applications The AT series provides virtually flat loss over a broad frequency spectrum. Thin film metalization provides for very stable characteristics over temperature and time. Its balanced PI design provides even current distribution and accurate attenuation characteristics from DC to 20 GHz. It is designed to meet a wide range of RF and microwave large and small signal level applications. The AT is ideal for impedance matching, input padding, signal level tuning, and many other critical RF/Microwave applications. The AT is rated highest power in class and is suitable for microstrip and CPW applications.
The non-magnetic termination is available providing a range of attachment options such as eutectic die-bonding, conductive epoxies, and soldering. The AT is fully compatible with high speed automated pick-and-place processing.
Note: Consult Factory for other attenuation values, termination styles and case sizes.
Datasheet / Catalogs
Datasheet / Catalogs – Click to Download
Part Number Information
Part Number Information
Design Tools
Design Tools – Click to Download
Includes: DXF, S2P & HFSS Files