As an OPEN Alliance member, KYOCERA AVX has extended its proven, high-performance, and ultralow-capacitance AntennaGuard range with the addition of two new MLVs that meet IEEE 1000BASE-T1 and 100BASE-T1 testing requirements, significantly outperform competing diode solutions, and deliver exceptional reliability in space-saving 0402 and 0603 packages.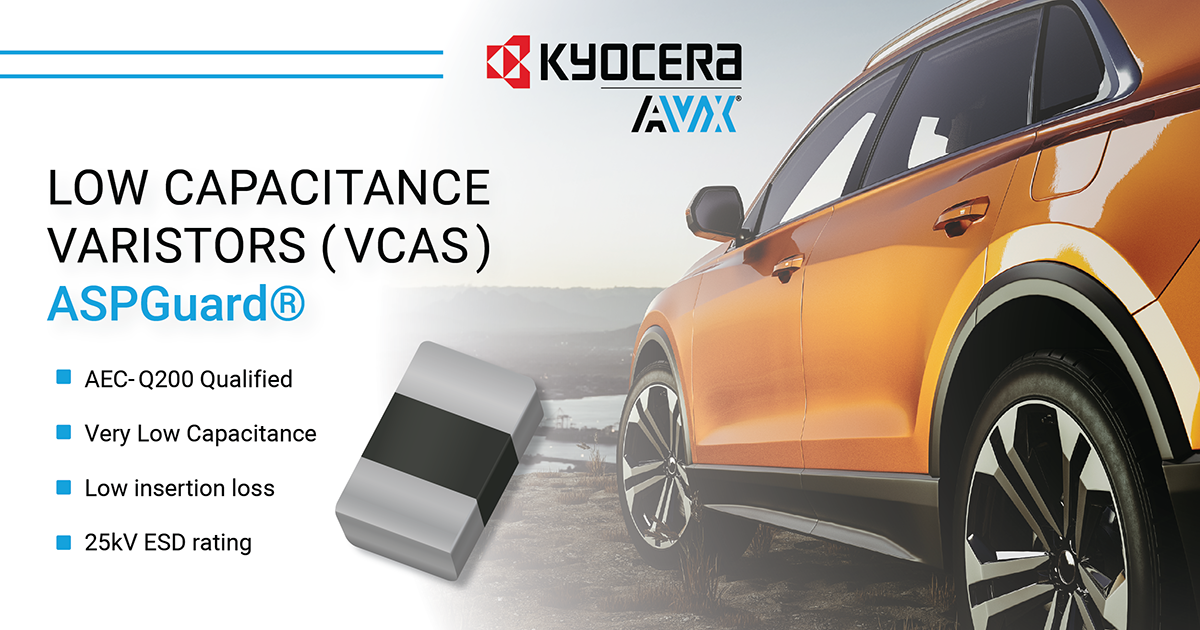 FOUNTAIN INN, S.C. (January 10, 2022) – KYOCERA AVX, a leading global manufacturer of advanced electronic components engineered to accelerate technological innovation and build a better future, has extended its AntennaGuard range of proven, high-performance, and ultralow-capacitance products with two new 0402 multilayer varistors (MLVs) that meet IEEE 100BASE-T1 and 1000BASE-T1 testing requirements.
The new ASPGuard® Series MLVs have small, ultralow-profile, surface-mount packages optimized for high-density designs and exhibit high current and energy handling capabilities, bidirectional overvoltage protection, super-fast, sub-nanosecond response times, and multi-strike capabilities. They also provide EMI/RFI attenuation in their off state, which can reduce or even eliminate the need for additional EMC capacitors, and offer lower insertion loss, lower leakage current, and unrivaled reliability compared to competing diode solutions. In addition, they are qualified to OPEN (One-Pair Ethernet) Alliance standards for automotive Ethernet applications and AEC-Q200.
Ideal applications for the ASPGuard Series include automotive Ethernet networks, IoT devices, industrial automation and control systems, robotics, RF and optical circuits, sensors, high-speed data lines, antennas, radar, Bluetooth devices, and other capacitance-sensitive, high-density applications in the automotive, industrial, and consumer electronics markets.
Available in ultraminiature 0402 and 0603 case sizes with maximum respective heights of just 0.5±0.10mm and 0.80±0.15mm, KYOCERA AVX's ASPGuard Series MLVs are rated for working voltages extending from 18–70VDC, capacitance values ranging from just 1.5–4.7pF, energy transients spanning 0.02–0.04J, 1–3A of peak current, and operating temperatures as low as -55°C and as high as +150°C. The series also delivers up to 25kV of electrostatic discharge (ESD) protection per IEC 61000-4-2 and meets 48VDC jump start requirements.
Currently, both new ASPGuard Series MLVs qualified to the OPEN Alliance standard are only available in the 0402 package. The first (VCAS04AP701R5YAT) is rated for 70VDC and 1.55pF with a ±0.13pF capacitance tolerance and designed for use in 1000BASE-T1 Gigabit Ethernet applications, while the second (VCAS04AP704R7LAT) is rated for 70VDC and 4.7pF with a ±1pF capacitance tolerance and designed for use in 100BASE-T1 (100Mb/s) automotive Ethernet applications.
ASPGuard Series MLVs are also equipped with RoHS-compliant nickel/tin terminations and packaged on 7" or 13" reels in quantities of 4,000 or 10,000 pieces for compatibility with automated processing equipment. Lead-time for the series is currently 16 weeks.
"As a member of the OPEN Alliance special interest group dedicated to encouraging the widespread standardization and adoption of single-pair automotive Ethernet solutions, we are excited to expand our existing portfolio of field-proven, AEC-Q200-qualified electronic components to better support a growing range of Ethernet-based automotive applications," said John Gallipeau, Senior Field Application Engineer for Circuit Protection at KYOCERA AVX. "Our new ASPGuard Series multilayer varistors meet stringent IEEE 100BASE-T1 and 1000BASE-T1 testing specifications, require minimal board space, and exhibit higher transient voltage handling capabilities and lower capacitance, insertion loss, and leakage than competing diode solutions."
For more information about KYOCERA AVX's ASPGuard Series ultralow-capacitance multilayer varistors (MLVs), please click product button below. For more information about KYOCERA AVX's AntennaGuard range of proven, high-performance, and ultralow-capacitance products, please visit our Transient Suppression Products catalog. To order, please visit Digi-Key or Mouser. For all other inquires, please visit https://www.kyocera-avx.com/, email inquiry@kyocera-avx.com, follow them on LinkedIn, Twitter, and Instagram, like them on Facebook, call 864-967-2150, or write to One AVX Boulevard, Fountain Inn, S.C. 29644.