Band Switching / Aperture Tuning Technology
Band switching/aperture tuning technology is the ideal solution when
the environment is reducing the original antenna bandwidth.
IoT devices tend to have small size, and therefore the performance (bandwidth/efficiency) of embedded antennas can be strongly degraded. By using an active antenna solution such as band switching/aperture tuning, it is possible to cover a wider frequency range by actively switching bands. For the same number frequency bands to be covered, the active antenna will have a smaller size compared to the passive antenna. At equal size, the active antenna will cover more frequency bands than the passive antenna.
Using a shunt KYOCERA AVX EC646 RF switch will accommodate the antenna frequency response to shift to the lower or higher frequency, based on pre-defined matching circuit values. The chip provides a broader global band coverage with a single antenna element. It achieves this by using parasitic loading and active tuning techniques, especially to meet the stringent low band antenna efficiency requirements.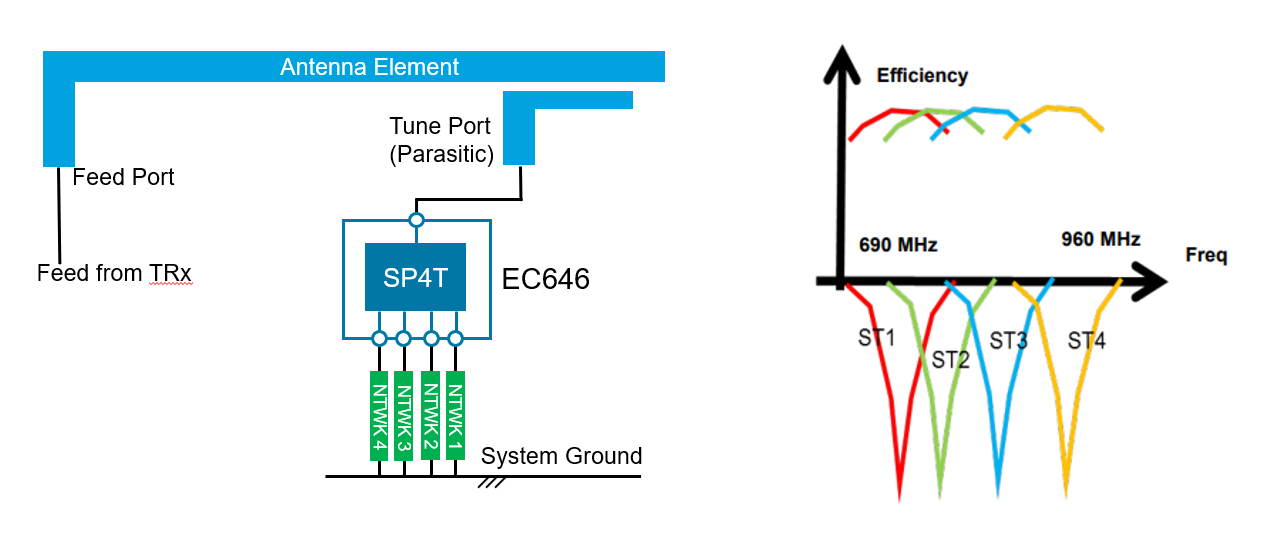 The implementation of band switching uses the EC646 RF switch, together with
the standard antenna 1004795 (EVB 1004795-EC646-01) or a custom design.
Band Switching / Aperture Tuning Chips
See Our Technology In Action
Please accept YouTube cookies to play this video. By accepting you will be accessing content from YouTube, a service provided by an external third party.
If you accept this notice, your choice will be saved and the page will refresh.