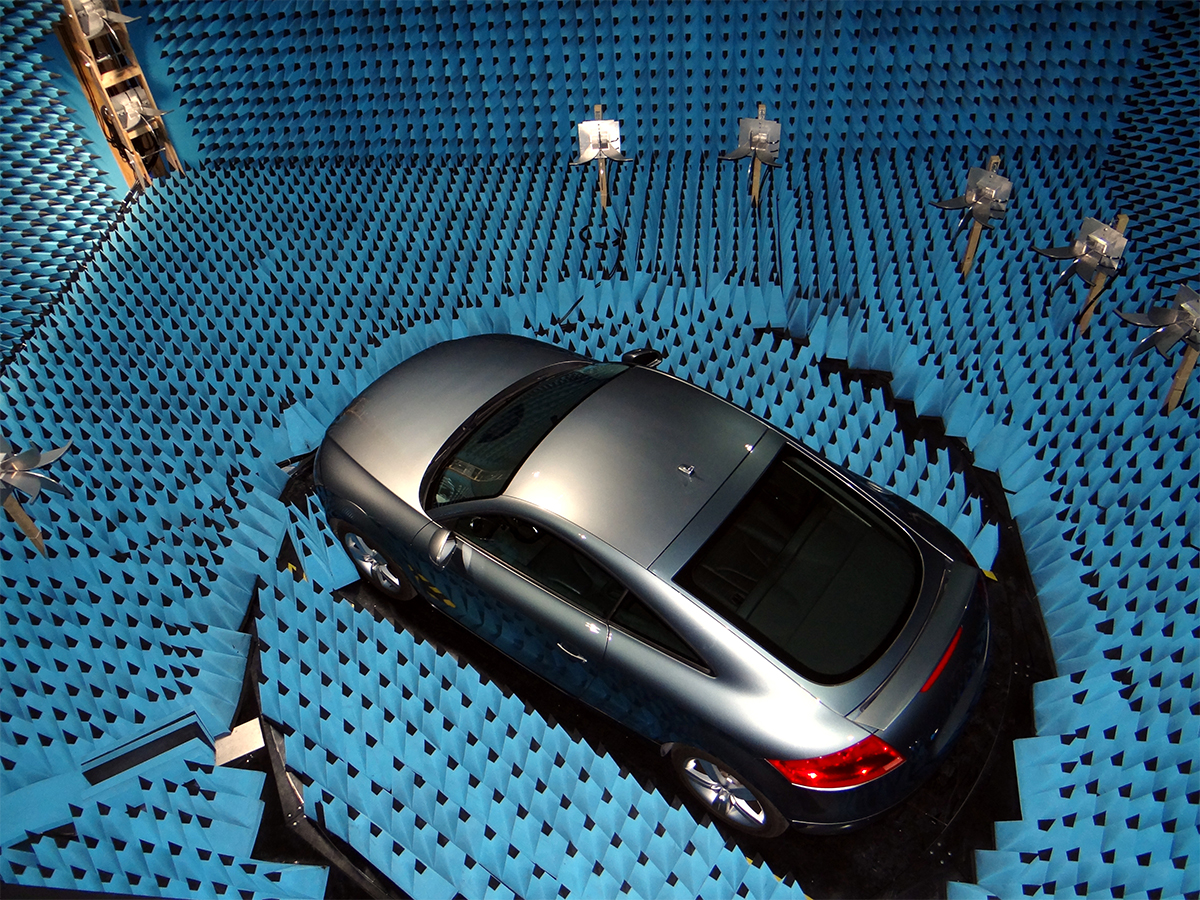 Features & Benefits
Technology: Far-field / Half 3D Chamber
Frequency Range: 600 MHz – 6 GHz
Diameter of Turn Table: 4.5m
Maximum Mass of DUT: 2.5 tons
Measurement Capabilities (Passive & Active)
Gain
Directivity
Efficiency
Beamwidth
Cross Polar Discrimination
Sidelobe Levels
Half 3D Radiation Patterns
Radiation Pattern in any Polarization
TRP, TIS, EIRP & EIS
Automotive Applications
Automotive
Large / Heavy Wireless Devices
The rapid development of connectivity in the automotive industry and the trend towards autonomous driving is leading to a demand for premium wireless performance. With the Automotive Chamber, KYOCERA AVX can support customers by validating the connectivity on the roughest conditions when the antennas are integrated within the vehicle.
The Automotive Chamber is a semi-hemispherical anechoic chamber capable of testing wireless devices from 600 MHz to 6 GHz. The system consists of a rotating platform of 4.5m diameter, supporting vehicles weighing up to 2.5 tons, and an arc of 10 dual polarized horn antennas. The size of the chamber is 9.6 meters length, 8.6 meters wide and has a height of 6 meters. The automotive chamber is located at the antenna design center in Nice (France), in the technology park of Sophia Antipolis.
​The chamber is operating using the complete antenna software suite, including:
Antenna Measurement (Measurement Control and Data Acquisition)
Antenna Viewer (Post-processing and tabular/graphical data output)
Different frequency ranges can be measured in the automotive chamber
(passive measurements for all frequencies and active measurements for cellular bands):
Cellular from 700MHz to 6 GHz (3G, 4G, LTE, 5G, NB-IoT, LTE-M)
Satellite (GNSS)
Wi-Fi & BLE
DSRC / V2X 

*For RADAR frequencies, refer to mmWave Chamber
Although the principal DUTs (Devices Under Test) are vehicles, with the increase of connected devices in the IoT industry and thanks to the large dimensions of the chamber, the automotive chamber has been widely used by manufacturers or large and/or heavy IoT devices to optimize the connectivity. Examples of DUTs measured in the Automotive Chamber are white goods (refrigerators, washing machines, etc.) or park meters.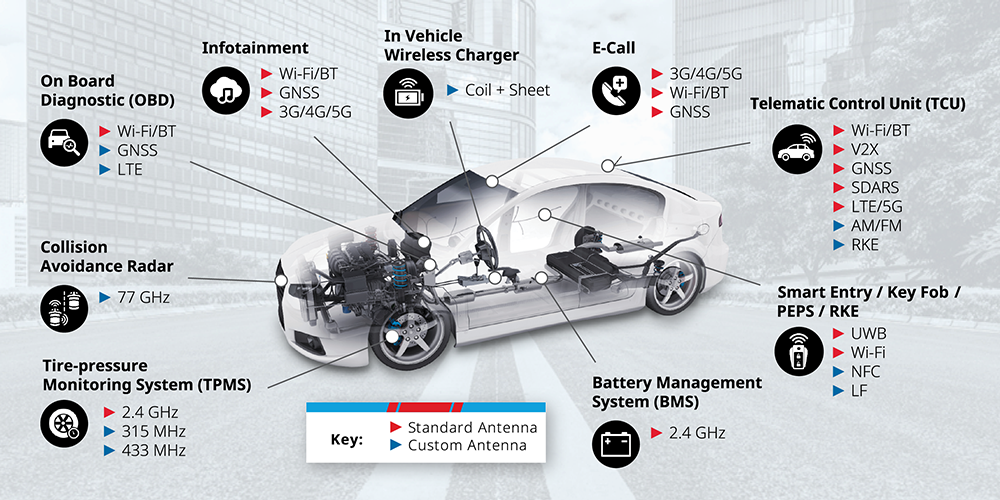 Antenna Solutions Catalog

KYOCERA AVX antennas are designed for a wide array of applications. Whether the antenna is embedded, internal, external, or outdoor, KYOCERA AVX uses its worldwide manufacturing capabilities to provide state of the art antenna technology.