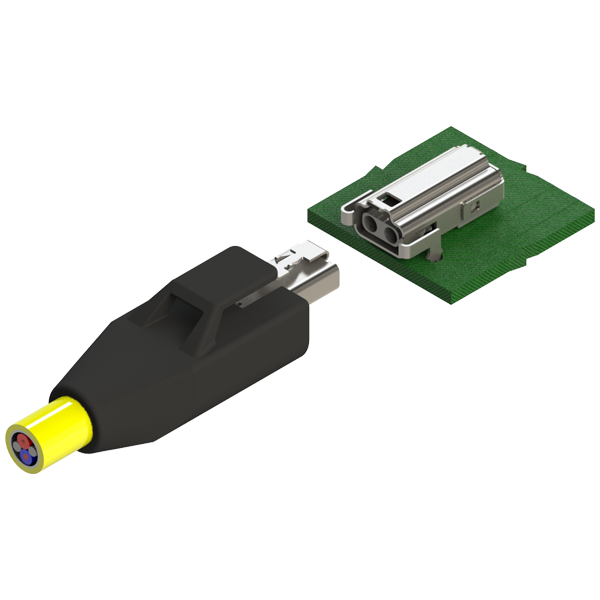 Features & Benefits
Single piece connector – no mating half connector required to connect two boards together which means:
Improved performances in one single twisted pair wires (vs RJ45 4-pairs)
Smaller form factor
Simplified networks, eliminates gateways
New industry standard according to IEC 63171-6
Operating temperature up to 85 °C (Target 125 °C)
Typical Applications
Robotics
Automation
Sensor & Actuator Networks
Control & Monitoring Cameras
Smart Grid
Traffic Control
Transportation Smart Monitoring
As the Industrial Ethernet market continues to grow, the market continues to look for smaller and faster connectors to fit their needs. In turn, this has driven single pair Ethernet to the forefront of discussion. Single Pair Ethernet (SPE) describes the transmission of Etheret over only one pair of twisted copper wires. In addition to data transmission via Ethernet, SPE also enables a simultaneous power supply of terminal devices via PoDL – Power over Data Line. Previously, this required two pairs for Fast Ethernet (100MB) and four pairs for Gigabit Ethernet.
In addition to space and weight savings with less wire, SPE transmits 1 GBit/s only up to a distance of 40 meters. KYOCERA AVX is a part of the SPE Industrial Partner Network and will offer SPE products to meet the customer and market needs while meeting the standards according to IEC 63171-6 and IEEE 802.3 etc.
Datasheet / Catalog
Datasheet / Catalog – Click to Download
General Characteristics
General Characteristics
New Single Pair Ethernet (SPE) Connectors is bringing numerous benefits to industrial market:
Simplified Ethernet connection for continuous communication from the control computer to the sensor
Transmission speeds from 10Mbit/s to 1GBit/s
Power supply and better reliability of terminal devices through Power over Data Line (PoDL) or hybrid
Transmission ranges up to 1000 meters
Simplified connectors and cabling saves space and weight
Time savings when setting up, maintaining and operating industrial networks
Replacement of analog interfaces, bus systems and other proprietary field level systems
Reduced complexity of automation networks
Technical Articles / White Papers
Technical Articles / White Papers – Click to Download
FAQ's
Question: What wire size can SPE connector terminate to?
Answer: KYOCERA AVX connectors can accommodate industrial data cable from 18 to 28AWG.
Question: Is there an IPx7 option available?
Answer: Coming next are M8 Hybrid and M12 SPE Connectors, which are rated IP65/67
Question: Can KYOCERA AVX offer custom solutions?
Answer: KYOCERA AVX offers customizable and flexible solutions for your specific application(s).