Engineers from AVX & subsidiaries Ethertronics & ATC will be onsite to promote the company's ever-expanding portfolio of high-performance microwave & RF solutions, including: filters, resistors, thermal conductors, & antennas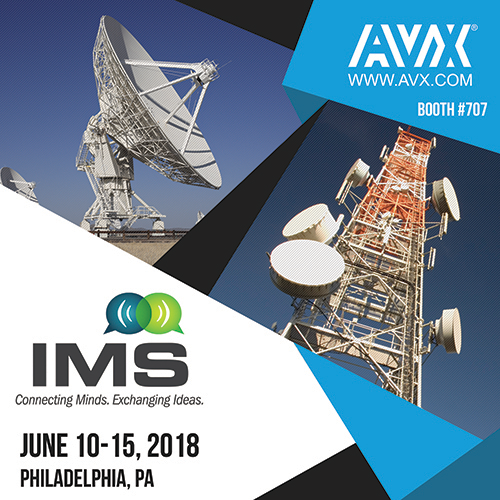 FOUNTAIN INN, S.C. (May 17, 2018) – AVX Corporation, a leading manufacturer and supplier of advanced electronic components and interconnect, sensor, control, and antenna solutions, is exhibiting at this year's International Microwave Symposium (IMS 2018), which will take place at the Pennsylvania Convention Center in Philadelphia June 10–15.
AVX's IMS exhibition will span booths #707 and #713, and will showcase the latest high-performance microwave and RF solutions from AVX and subsidiaries Ethertronics and American Technical Ceramics Corp. (ATC). At least eight of the company's foremost engineers — including AVX Fellow, Ron Demcko; AVX Thin Film Marketing Director, Leonid Talalaevsky; AVX Worldwide Business Manager for RF/Microwave Ceramics and MLO, Edgardo Menendez; AVX Principal Technology Marketing Engineer, Larry Eisenberger; and Ethertronics Deputy General Manager, Americas, Chen Huang — will be onsite to introduce attendees to the features and benefits of a wide range of new and existing products, including:
"As the flagship conference of the IEEE Microwave Theory and Techniques Society, IMS has a long tradition of addressing issues of both immediate and long-term interest to microwave, RF, and millimeter-wave researchers, technologists, and practitioners. So, we're excited to introduce attendees to our most recent contributions to this rapidly evolving industry," said AVX Fellow Ron Demcko. "Although we are perhaps best known for our capacitors, inductors, and filters, AVX has long offered a wide variety of state-of-the-art resistors, terminators, attenuators, diplexers, triplexers, equalizers, couplers, and power dividers all designed to provide peak performance in microwave and RF applications across a multitude of markets. This year, we're also proud to introduce the latest complement to our existing solutions portfolio: Ethertronics' innovative passive and active Isolated Magnetic Dipole™ (IMD) antenna systems for wireless applications across the mobile phone, Wi-Fi, defense, aerospace, medical, and IoT markets."
For more information about AVX, please visit Booth #707 and #713 at IMS 2018, navigate to www.avx.com, email inquiry@kyocera-avx.com, follow them on LinkedIn and Twitter, like them on Facebook, call 864-967-2150, or write to One AVX Boulevard, Fountain Inn, S.C. 29644.
Editor's Note: To schedule an appointment with an AVX representative at IMS 2018, please contact Christina Sandidge, public relations specialist, BtB Marketing Communications, at christina.sandidge@btbmarketing.com or 919-872-8172.