Visit AVX & subsidiaries Ethertronics, AB Elektronik, & ATC in Hall B6, Booth 223 & Hall C3, Booth 500 November 13-16 in Munich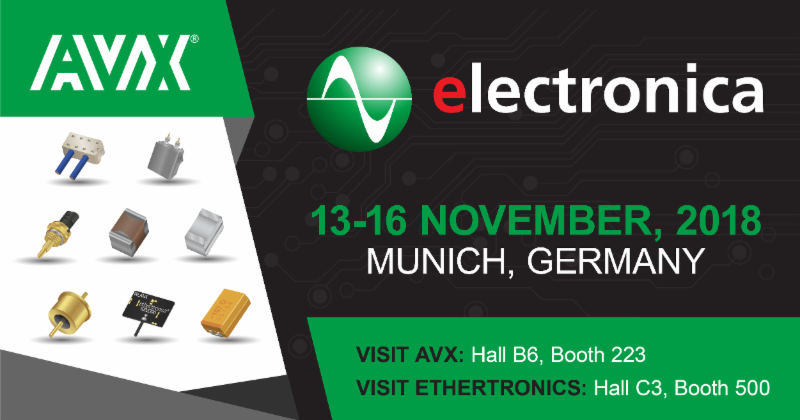 FOUNTAIN INN, S.C. (November 8, 2018) –
AVX Corporation
, a leading manufacturer and supplier of advanced electronic components and interconnect, sensor, control, and antenna solutions, is showcasing its vast portfolio of proven products for demanding automotive, medical, military, aerospace, industrial, and consumer market applications at
electronica 2018
, November 13-16 in Munich. AVX is exhibiting alongside subsidiaries Ethertronics, AB Elektronik, and ATC in Hall B6 at Booth 223 and in Hall C3 at Booth 500, and invites attendees to come speak with any of its many onsite technical experts to learn about the unique features and benefits of a wide range of new and existing products, including tantalum, ceramic, and power film capacitors; advanced circuit protection devices; innovative board-to-board, wire-to-board, I/O, and USB connectors; microwave and RF circuit solutions including filters, inductors, fuses, and couplers; an array of sensors and controls for automotive to IoT applications; and high-performance active and passive antennas.
electronica is widely recognized as the premier global trade fair for electronic components, systems, and applications, and this year's 28th biennial event will feature more than 3,500 exhibitors from more than 50 countries and will highlight cutting-edge technologies, electronic products, industry trends, and innovative component-level solutions for every market from across the entire electronics industry.
"electronica has long been the flagship conference of the global electronics industry, and we are both excited and proud to once again participate in this unparalleled event," said Alex Schenkel, vice president of global sales, AVX. "This year, we especially look forward to introducing attendees to our ever-expanding portfolio of high-performance, high-reliability components and product solutions for a wide range of both niche and cross-market applications and to highlighting the latest addition to our trusted solutions portfolio: Ethertronics' ultra-high-performance smart antenna systems for wireless communications applications, including 5G, Wi-Fi, and IoT devices."
Showcased product selections from AVX and subsidiaries Ethertronics, AB Elektronik, and ATC will include:
AVX is also hosting a virtual reality automotive experience at its Hall B6, Booth 223 location that will provide visitors with an immersive experience that demonstrates the many ways that AVX products are employed in automotive industry applications.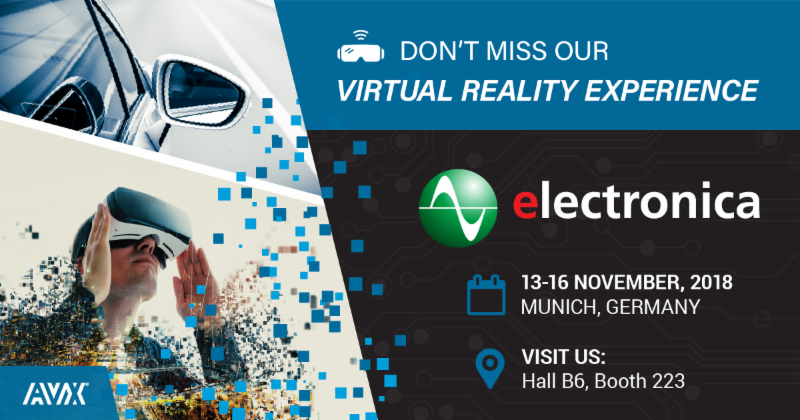 For more information about AVX, please visit Hall B6 at Booth 223 and Hall C3 at Booth 500 at electronica 2018, navigate to www.avx.com, email inquiry@kyocera-avx.com, follow them on LinkedIn and Twitter, like them on Facebook, call 864-967-2150, or write to One AVX Boulevard, Fountain Inn, S.C. 29644.